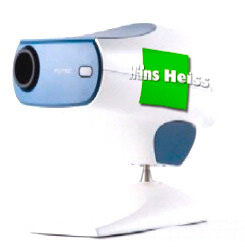 Body channel is operated by remote control
Body channel was operated on the previous product through the switch of the body. But body channel can be easily operated on the new product only by the remote control.
Clear & various charts
It shows clear 42 charts, including eyesight, astigmatic angle, binocular vision, heterophoria, stereopsis and so on, and the mask(vertical, horizontal, single).
Rapid chart change speed
The refined appearance, which shows LED lighting at the side of the product, will upgrade the optometry room.
Specifications
Charts
42 EA
Distance of Projector
2.5~8m
Chart magnification
30 × (when projected at 5m distance)
Lamp
Halogen lamp
Masks
35EA (1 open mask, 5 horizontal line maksks, 8 vertical line
masks, 21 single letter masks)
Filter
1 Red/Green Filter
Chart rotation speed
average 0.21 sec (min. 0.092sec, max.0.324sec)
Power supply
AC100-240V, 50/60Hz
Power consumption
60VA
Dimensions
HCP8000-L Main Body (Stand 제외)
202(W)×364(D)×172(H) mm
Remote Controller : 64(W)
×196(D)×20(H) mm
Weights
HCP8000-L (Stand 제외)
4.9 kg
Remote Controller.
160 g (Battery included)
Basic accessories
Product Body(HCP8000-L), Screen
Remoto Controller, Table Stand, Dust Cover, Power Cable
T wrench, Fuse, Lamp(HCP8000-L), Battery
Optional accessories
Red/Green glasses, Polarization glasses