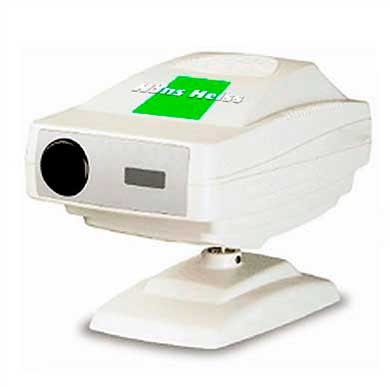 Auto optometry system Chart Projector provide the convenient and effective measurement environment with sharp, clear projection
Clear Image
HHCP8500 provide clear and sharp image with higher resolution.
Rapid Chart Change
Rapid and exact chart change provide you easy and accurate measurement.
Wide range of Measurement Function
Various measurement mode of binocular balancing, strabismus, aniseikonia, stereovision, binocular function, suppression etc.
With diverse chart of Red/Green polarizing filter, and polarizing chart or Maddox Rod for checking heterophoria, we pursuit the higher reliability of vision test.
Effective, Automatic Total Vision System
HHCP8500 is compatible with HHAV8500, so various and exact result can be obtained.
Compact Design(Auto Chart Projector)
With compact and light design, you can put it even in a very narrow space.
Various Control Method
You can change the chart from HHAV8500
The remote control system will be helpful for the changing chart.
---
Specification
| | |
| --- | --- |
| Projection Distance | 1.5~10m |
| Projection Magnification | ×30 (in 5m refraction) |
| Number of Chart | 33 |
| Chart Rotation Speed | 1 frame average 0.2 second |
| Mask & Filter | Open 1, Horizon line 5, Vertical line 8, Single isolation 15, |
| Red/Green | 1 |
| Power Supply AC | 220~230V, 50~60Hz |
| Lamp | 6V/20w halogen, 1000hours life time |
| Power Consumption | 0.2A at 220V |
| Power Saving | 6 minute |
| Tilt Angle | ±20° |
| Dimension & Weight | 197(W)×335(D)×163(H)㎜, 5.6kg |
| Accessories | Remote Control / Power Cable / Dust Cover / Battery / Fuse / Spare Lamp / Table Stand / Screen (410×280㎜ for 5m distance) |
| Optional Accessories | Wall Mount Bracket / RS-232C (Interface) / Adaptor / Red-Green Glasses / Polarized Glasses / Screen (500×400㎜ for 6m distance) |