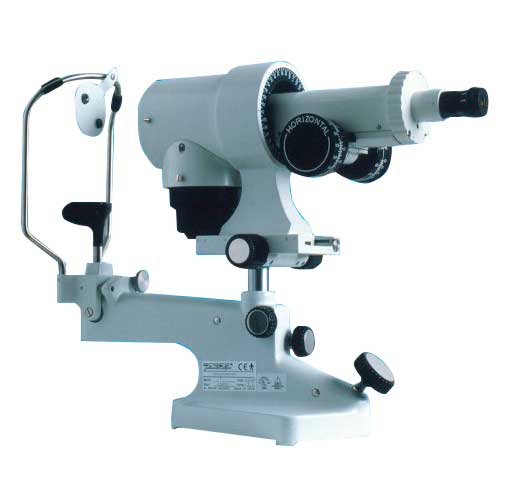 Hans Heiss HMK7004
The keratometer system HELTMHOLTZ is an instrument designed to measure corneal astigmatism and
the anterior radius of the cornea.
Due to its speed and precision, this equipment is ideal for the adaption of contact lenses.
With the image splitting system you can achieve a very fine focus, allowing to measure the radius of
curvature of the cornea to its power in diopters with great precision.
Technical Characteristics
Double scales for corneal measurements of diopters (Dp) and radius (mm), in two meridians of 90° simultaneously.
Measurement of the angle of astigmatism
Measures 3 mm of diameter of corneas of 36 Dp, 3.27 mm in corneas of 44 Dp and 2.75mm in corneas of 52 Dp.
Sensitive focus control for overlapping images.
Direct plug in, input voltage 220 v ~ or 120 v with fuse protection of 0.5 A.
Accesories
Spare Parts
| | | |
| --- | --- | --- |
| Parts | Characteristics | Supply codes |
| Interrupter | Plastic | 170195 |
| Lamp holders | 125 V / 75 W; 250 V / 2 A | 170537; 170534 |
| Illumination system | Housing with interrupter which contains the lamp, mirror and electric part. | System of keratometer illumination set. |
Other sustainable components:
| | | |
| --- | --- | --- |
| Parts | Characteristics | Supply Codes |
| Lamp | 120 V/ 15 W; 220 V/ 25 W | 170195 |
| Fuses | 500 mA | 170172 |