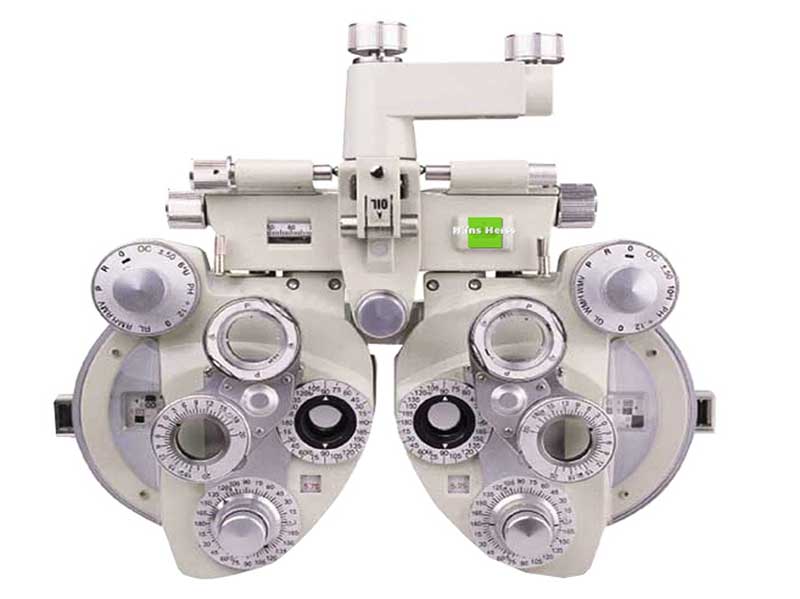 Adjusting Sphere Power Readings/Cylinder Power and Axis
Exact adjustment can be made from -19.00D to +16.75D in 0.25D steps. The sphere power rapid feed dial allows rapid eye examination per ¡¾3.00D. With accessory's lenses, it is possible to read up to ¡¾0.12D.
Also the auxiliary lenses ¡¾10.00D (optional) are available to extend adjustment range up to -29.00D ~ +26.75D
The cylinder lens graduated in 0.25D steps allows adjustment up to 0~ -6.00D and with the accessory lens - 2.00D, it is possible to extend adjustment range up to - 8.00D
The cylinder axis can be adjusted up to 0¨¬~ 180¨¬ in 50 steps
Each adjustment can be made rapidly with two knobs on the same axis.
The cross cylinder loupe rotates automatically through a special synchronized mechanism with the control knob, to change the cylinder lens axis.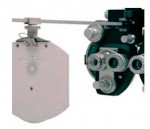 System
Precise measurement is possible with the lens set at a suitable angle for near vision testing (by closing the convergence lever inward) as well as for distance (by opening it outward).
This converges the optical system coincident to the convergence of the patient¢¥s eye while the patient looks througth the correct optical centers. Therefore, this unique system ensures perfect testing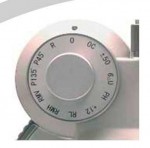 Near point scale and Chart
The scale can be graduated in "Inches", "Centimetres" and "Diopters". It can be set at a distance you like to use and when it is not in use, it can be stored in a standing position.
The Near Point Chart contains a rotatable disc with 12 kinds of tests on both sides. The scale is 67cm/26.4in length.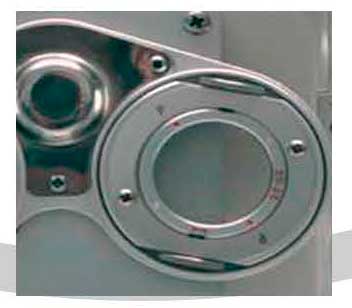 Corneal Aligning
It is used to align the corneal vertex of the patient and set the patient cornea in the correct position (at 12mm from the view tester lenses). Measurement should be made at the "0" position of the scale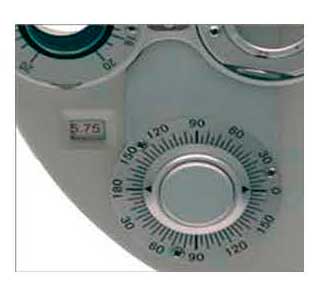 Adjustment levels
The wide range of adjustment from 45 mm/1.77 in through 80mm/3.15 in and an easy to read scale in 1mm/0.04 in graduation.
Convenient knobs, located in both sides, enable smooth and rapid adjustment.
Level adjustment can be made easily, one-touch operation by using the leveling knob and level.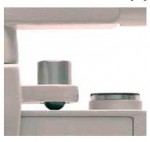 Rotary Prism
The readings can be taken accurately at 20∆ in 1∆ scale graduation.
It has also a click stop that permits you to measure horizontal and vertical strabismus and heterophoria. Using both right and left prism. it is possible to take readings up to 40∆ and test eye balance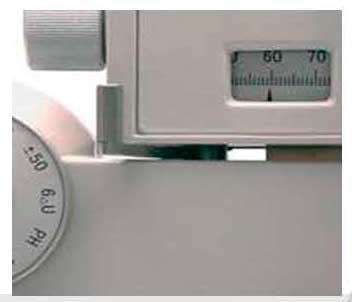 Accessory Lenses
Three types of spare lens are included:
-2.00CYL, -0.12CYL and 0.0CYL
Specifications
Sphere power
range:+16.75 to -19.00 diopters; step: 0.25 diopters
Cylinder power
range: 0.00 to -6.00 diopters (0.00 to -8.00 diopters with additional lens of -2.00 diopters); step: 0.25 diopters
Cylinder axis
0 to 180, 5 step
Cross cylinder
25 diopters
Rotary prisms
0 to 20, min. 1 step
Auxiliary lens dial
(O)-Open aperture (two positions)(R)-Retinoscopic lens,+1.50D (P)-Polarizing lens 45mm- left eye 135mm- right eye (WMV)or(RMV)-Maddox rod
Vertical white-left eye red-right eye (WMH)or(RMH)-Maddox rod. horizontal white-left eye red-right eye (RL)-Red lens(1.12-10.12D sphere(PH)-Pin hole (10) or (6) -10 base-in-left eye, 6 base-up-right eye (dissociating prisms) (+/-0.50)+/-0.50 fixed cross cylinder(0C)-Occluder
P.D. adjustment
48-75mm, 1mm as a step
Standard accessory lenses
two 12D and -2.00 cylinder lenses,two plane lenses for sealing front opening
Standard accessories
1 near point card with holder and reading rod,dust cover, face shield, accessory case for lenses
Dimensions
318 x 293 x 96 (mm); 11. Net weight: approx 5kg