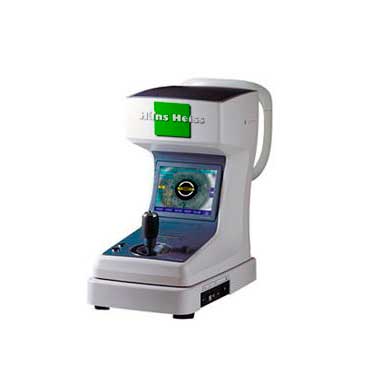 Refractoin & Keratometry Measurement
HRK-9000 provides an extensive dioptric measurement range (-25D to +22D), and the radius of curvature for keratometry is 5.0mm to 10.2mm. Easy alignment and friendly operation allows you to measure the refraction and keratometry in sequence, and the results can be validated immediately. Owing to its easy alignment and friendly operation you can measure the refraction and keratometry in a sequence, the results can be checked all at once.

TFT-LCD with Touch Screen
By adopting high resolution VGA TFT-LCD with Touch Screen function, we virtually removed all input keys except the measurement button on the Joystick and Chinrest control switches. Tests are performed rapidly and conveniently by simply pressing a button or the icon indicated on the screen.
IOL Measurement
When refraction results in an error reading due to an intraocular lens or cataract the measurement can be performed with the IOL icon switched 'ON'
Motorized Chinrest
The chinrest is motorized with the use of a switch conveniently positioned for the operator. This makes for simple adjustment of the chinrest from patient to patient.
Data Transfer
Data can be transferred to external devices (personal computer, etc.) via an RS-232 interface. A USB interface is also provided for future compatibility.
Measurement Modes

K/R Mode

Continuous Keratometry and Refractometry
REF Mode
Refractometry
KER Mode
Keratometry
CLBC Mode
Contact Lens Base Curve Measurement
K(P) Mode
Peripheral Keratometry

Refactometry

Vertex Distance (VD)
0.0, 12.0, 13.5, 15.0
Sphere (SPH)
-25.00 ~ +22.00D (when VD=12mm) (Increments : 0.12 and 0.25D)
Cylinder (CYL)
0.00 ~ ±10.00D (Increments : 0.12 and 0.25D)
Axis (AX)
1 ~ 180° (Increments : 1°)
Cylinder Form
-, +, MIX
Pupil Distance (PD)
10 ~ 85mm
Minimum Pupil Diameter
Ø2.0mm

Keratometry

Radius of Curvature
5.0 ~ 10.2mm (Increments : 0.01mm)
Corneal Power
33.00 ~ 67.50D (when cornea equivalent refractive index is 1.3375)
(Increments : 0.05/0.12/0.25D)
Corneal astigmatism

0.00 ~ -15.00D (Increments : 0.05/0.12/0.25D)

Axis
1 ~ 180° (Increments : 1°)

Others

Corneal Dimeter
2.0 ~ 12.0mm (Increments : 0.1mm)
Memory of Data
10 measurements for each eye
Internal Printer
Thermal line printer with Auto - Cutter function
Monitor
16.25 cm(6.4 inch) TFT-LCD (640 × 480 pixels, Touch-Screen function)
Power supply
AC100-240V, 50/60Hz (Free Voltage, Free Frequency)
Dimensions
Approx. 300(W) × 500(D) × 430(H)mm
Weight
Approx. 20kg