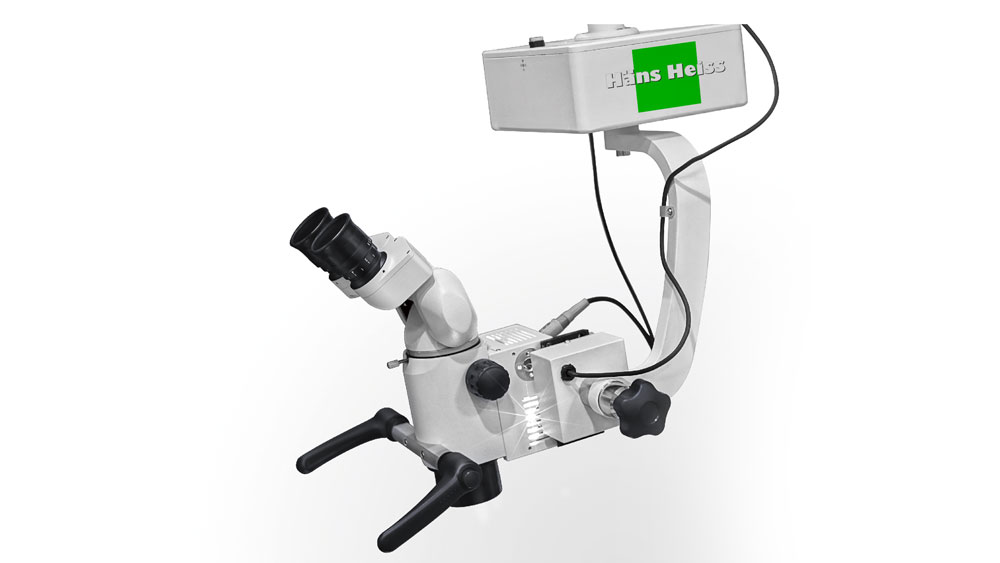 Surgical Microscope is developed bases on the cutting-edge technology of optics, mechanic and electronic. It can be upgraded for two doctor's using with assistant microscope.
Equipped with the Red Reflex illumination enhancing the red relfex, ensures an even more comfortable lighting environment for cataract operations.
Advantages
LED light source
MediWorks is the one of pioneers who uses the LED light with much longer lifespan than traditional light, and LED is more economical since there is no replacement of bulb.
Continuous Zoom
It's more easy to change the magnification by the revolving drum without any limitation of the particular magnifications which have been set in advance.
Fine Focus and X-Y axis
The functions of moving focus and adjusting position in the area of X-Y axis can be achieved by a simple foot pedal.
Features
Modularization design makes the installation and upgrade easily.
Adopting high-intensity LED as the light source without UV and IR radiation.
Much less power consumption compared with the traditional light source of surgical microscope.
The liftspan of LED is more than 50,000 hours without worry about replacing and maintenance of bulb.
Automatic reset function of XY movement stroke.
Microscope with Zoom magnification changer ensures a comfortable surgery environment. (HSM-620 only)
Head inclination angle from 0 to 90degree continuously alleviates fatigue caused by the long time operation. (HSM-620 only)
Specification
HSM-620
HSM-610
Microscope
Magnification Changer
Continuous Zoom
5 steps
Total Magnification(F200)
4.5X - 29X
4X, 6X, 10X, 16X, 25X
Field of View
50mm ~ 7.8mm
58mm, 38mm, 24mm, 14mm, 9mm
Head Inclination Angle
0 - 90° continuously
45°
Eyepiece Magnification
12.5X/18B
Objective
F=200mm
Focusing Movement
>50mm
X-Y Movement
50mm x 50mm
Illumination
Light System
6°+0° Co-axial Illumination
Co-axial Illumination Field
55mm
Co-axial Illumination Maximum Intensity
>50KLX
Light Source
White LED
Light Power
25W
Light Source Lifespan
>50,000hours
Filters*
Yellow Spot Protection Filter
Arm,base
Mount
Floor Stand
Maximum arm extension
1320mm
Arm vertical movement
750mm - 1400mm
Power supply
Input Voltage
AC100-240V
Power consumption
120VA
* Filter: Red-free filter or cobalt blue filter is optional.